Sysmex Receives the 44th Inoue Harushige Prize
Sysmex Corporation (HQ: Kobe, Japan; Chairman and CEO: Hisashi Ietsugu), has received the 44th Inoue Harushige Prize for its "hepatic fibrosis diagnostic technology using a new glycosylation marker," which was developed through industry-academia collaboration. The presentation ceremony was held today, July 18, 2019, at the Industry Club of Japan.
The Inoue Harushige Prize, established in 1976 to commend researchers and companies, is given to researchers and corporations for outstanding technology that a company has developed and commercialized using original research from a university, research institute, or similar entity, and that contributes to the advancement of science and technology in Japan, economic development, and greater welfare.
Sysmex developed hepatic fibrosis diagnostic technology using a new glycosylation marker in collaboration with the National Institute of Advanced Industrial Science and Technology, or AIST (Tsukuba HQ: Tsukuba, Ibaraki Prefecture, Japan; President: Ryoji Chubachi) based on the success of New Energy and Industrial Technology Development Organization (NEDO) projects.1 On this basis, we developed a diagnostic reagent to quickly determine (17 minutes) from a blood test the degree of progression of hepatic fibrosis by using a glycosylation marker.2 In December 2013, we became the first company in the world to commercialize this technology.3
Viral hepatitis is the most prevalent infectious disease in Japan, affecting some three million people. Left untreated, the condition can develop into severe illness as it progresses to liver cell carcinoma. In the past, the typical method for determining viral hepatitis and the progression of hepatic fibrosis involved performing a liver biopsy4 or extracting other living tissue from the patient. Such methods placed a significant physical and emotional burden on patients and involved the use of expensive diagnostic imaging equipment. However, due to the practical realization of this technology and its coverage under Japan's national health insurance, clinical laboratories at healthcare institutions are now able to conduct measurements more quickly than by using conventional technologies. They can also measure the progression of hepatic fibrosis, using just a blood sample and without hospitalizing the patient. In addition to reducing the burden on patients in treating chronic viral hepatitis, this technology reduces the amount of time and medical expenditure required for appropriate treatment.
Sysmex aims to expand its hepatic fibrosis test reagent (HISCL™ M2BPGi™ Assay Kit) business on the basis of this technology. To this end, we are leveraging the evidence from clinical evaluations in Japan to roll out this business in China, South Korea, Southeast Asia and other areas.
Sysmex plans to continue accelerating R&D conducted through industry–academia–government collaboration, thereby stepping up its efforts toward the practical realization of leading-edge technologies.
44th Inoue Harushige Prize presentation ceremony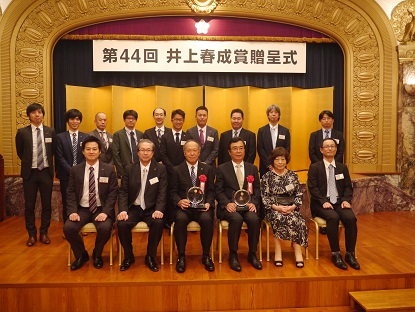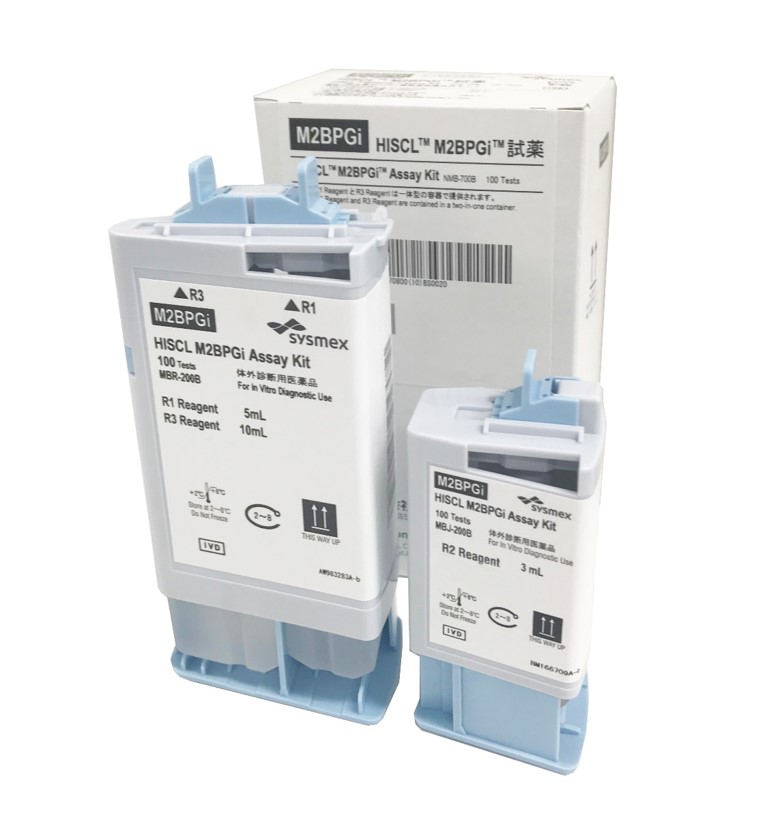 Overview of the Prize
Name: 44th Inoue Harushige Prize
Recipients: Research: Hisashi Narimatsu (Emeritus Researcher, Biotechnology Research Institute for Drug Discovery, National Institute of Advanced Industrial Science and Technology)
Company: Hisashi Ietsugu (Chairman and CEO, Sysmex Corporation)
Invention: Hepatic fibrosis diagnostic technology using a new glycosylation marker
References
December 26, 2013 press release: "Sysmex Succeeds in World's First Practical Application of Technology Employing a Glycosylation Marker to Test Hepatic Fibrosis; Technology Allows the Degree of Hepatic Fibrosis, from Hepatitis to Cirrhosis of the Liver, to Be Determined Swiftly"
https://www.sysmex.co.jp/en/news/2013/131226.html
January 5, 2015 press release: "Hepatic Fibrosis Test Reagent (HISCL M2BPGi Assay Kit) Receives Approval for Health Insurance Coverage − Speedy Blood Sample-based Test for Measuring the Progression of Hepatic Fibrosis from Chronic Hepatitis to Cirrhosis of the Liver−"
https://www.sysmex.co.jp/en/news/2015/150105.html
August 29, 2016 press release: "Sysmex Wins the 14th Annual Merit Award from the Minister of Economy, Trade and Industry for Collaborative Achievement Between Industry, Academia and Government"
https://www.sysmex.co.jp/en/news/2016/160829.html
Website of the Inoue Harushige Prize:
https://inouesho.jp/en/index.html
Terminology
NEDO projects: As one of Japan's largest public research and development management organizations, the New Energy and Industrial Technology Development Organization (NEDO) plays an important part in Japan's economic and industrial policies. It has two basic missions: "Addressing energy and global environmental problems" and "Enhancing industrial technology." The Medical Glycomics Project (fiscal 2006 through fiscal 2010), which contributed to the success of realizing the current reagent, employed basic technologies developed through the Glycogene Project (fiscal 2001 through fiscal 2003) and the Structural Glycomics Project (fiscal 2003 through fiscal 2005).
Glycosylation marker: Sugar chains, the linked monosaccharides that bind to the surface of a cell or a protein in the blood, are sometimes described as "cell and protein costumes." Their roles include the transmission of information specific to individual cells and intercellular communications. A glycosylation marker is a biomarker that targets structural changes in sugar chains present in glycoproteins.
The path to practical application: Sysmex's collaborative research partner, the AIST Research Center for Medical Glycoscience (as it was known at the time of development) searched for disease biomarkers indicating qualitative changes related to hepatic fibrosis. The center identified the Mac-2 binding protein glycosylation isomer ("M2BP glycosylation isomer") in reaction with Wisteria floribunda agglutinin ("WFA"), a type of lectin*, as the biomarker with the highest correlation to development of hepatic fibrosis. However, the force bonding glycoproteins and lectin was extremely small, at 1/1,000th that of the force bonding antibodies and antigens. Clinical application was thought to be difficult, as measurement at the basic research level required more than 18 hours. However, Sysmex noticed that the target M2BP was characterized in vivo by a ring-shaped structure with 8–12 subunits. The Company then developed a proprietary method for fixing WFA at high concentrations, facilitating bonding with WFA at multiple points. This technology made it possible to capture M2BP glycosylation isomer for reaction with WFA in a tiny quantity of blood serum (10μL), facilitating the development of in vitro diagnostic reagents to quickly enable diagnosis of the progress of hepatic fibrosis (17 minutes) and to a high degree of sensitivity using chemiluminescence. *Lectin: A collective term for carbohydrate-binding proteins. Some 40–50 lectin varieties are known, and these wide-ranging lectins have specific sugar chain structures. Recognizing and combining these sugar chain structures allow the targeting of specific lectins, thereby determining structural changes in the sugar chain.
Liver biopsy: To perform a pathological diagnosis, a biopsy needle is inserted into the abdominal region to extract liver tissue. In this testing, a portion of that liver tissue is studied under a microscope.
*Information contained in the press release is current as of the date of the announcement, but may be subject to change without prior notice.