Great gathering of great minds at Sysmex 2nd International Scientific Seminar
It has been three years since the first Sysmex International Scientific Seminar was held in Singapore in 2006. This time Sysmex Asia Pacific, in collaboration with Sysmex Corporation, held its 2nd International Scientific Seminar at the Sheraton Saigon Hotel & Towers, Ho Chi Minh City, Vietnam on 14 and 15 December 2009, with more than 300 delegates from 14 countries worldwide attending this seminar.
This seminar is the most important and biggest scientific event organized by Sysmex Asia Pacific. The aim of this scientific and educational seminar series is to present exciting new developments in clinical and laboratory diagnostics and to share knowledge, experience and solutions to the challenges experienced in clinical and laboratory diagnostic world.
Ten speakers from Asia, Europe, North America and Oceania graced the seminar with informative and interesting updates in the field of clinical and laboratory diagnostics. Clinical utility of novel parameters and approaches in diagnosing diseases were discussed at the first session, "State of the Art". In the second session, "Defining Disease States", the diagnostic potential of combining data from hematological measurements was explored; and during the third session, "Diagnostic Morphology/Cellular analysis", the power of technology in cell analysis was discussed.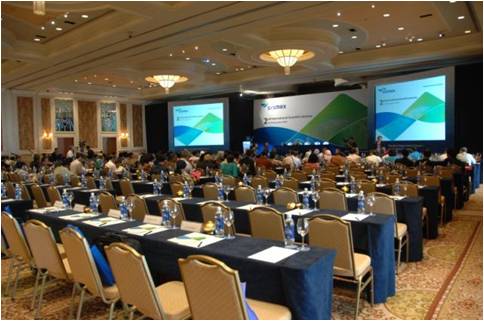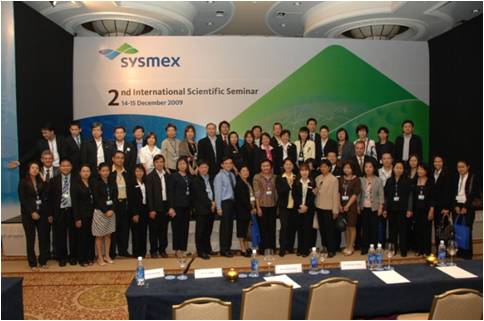 2nd Sysmex International Scientific Seminar Hall at Sheraton Saigon Hotel & Towers
Lectures in Session I: State of the Art
Intensive Care Management – Hematological Cell Analysis Scores for Sepsis Diagnostics. Imagination or Reality?
Diagnosis of Thrombocytopenia: A Novel Approach
Laboratory Testing for Lupus Anticoagulants: New ISTH Guideline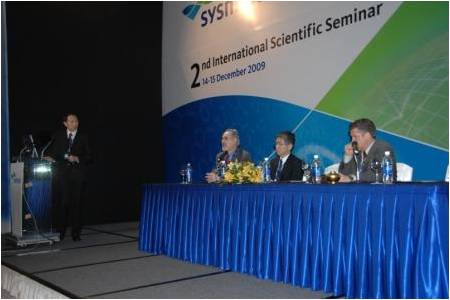 Session I panel discussion
Lectures in Session II: Defining Disease States
Neut-X: A New Tool?
Clinical Significance of New RBC-Related Parameters of Automated Hematology Analyzers
Management of Thalassemia in Vietnam: Issues & Challenges
Diagnosis and Treatment of DIC in the National Institute of Hematology and Blood Transfusion (NIHBT)
Lectures in Session III: Diagnostic Morphology/Cellular Analysis
Qualified Automated Digital Images Device Useful for Telehematology – A Reliability and Feasibility Study
Sysmex XE-5000 for CSF WBC Counts: Is It Time for New Reference Ranges?
RBC Morphology: A Useful Parameter in the Diagnosis of Renal Disease
After this one and a half day seminar, guests were happy to leave with valuable information gathered from lectures and discussions, but at the same time reluctant to farewell the beautiful Ho Chi Minh City. Although this year's meeting is over, the Sysmex team will continue our journey of shaping the advancement of health care and we look forward to creating the next exciting International Scientific Seminar in two year's time. We hope to see you there!